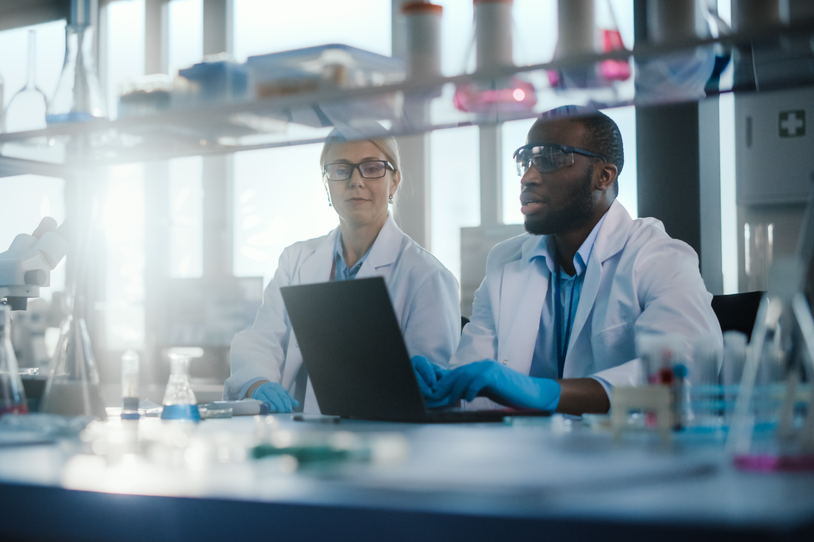 Analysis of DNA from nearly 200,000 people of African descent revealed a specific genetic change that  appears to increase the risk of Parkinson's disease (PD). The newly identified GBA variant, which researchers found occurred in the African populations they studied but not in others, could help drive therapies for this underserved community and will contribute to the field's expanding knowledge of Parkinson's genetics.
The finding — enabled by support from the Aligning Science Across Parkinson's (ASAP) initiative and The Michael J. Fox Foundation (MJFF) — highlights why research needs to prioritize diversity. Historically, genetic research on PD has focused on individuals of European ancestry, leaving a significant knowledge gap about the disease in other populations.
"As researchers and clinicians, our shared responsibility is to make sure Parkinson's science is representative of all communities around the world," said study author Njideka Okubadejo, MD, professor of neurology at the University of Lagos, College of Medicine, in Nigeria. "This GBA result is a step toward that future."
This finding also contributes to broadening our understanding of Parkinson's overall and its genetic links. In recent years, GBA has been an area of increased research and a promising target for therapies that could slow or stop disease progression. With each new scientific discovery, every person with PD stands to benefit from the collective knowledge gained.
"The field of Parkinson's has made leaps of progress in recent decades. That work has been built upon scientific discoveries — like this one — and fueled by research participants and scientists," said Sohini Chowdhury, MJFF's chief program officer. "Our work can be exponentially successful if we ensure that our research efforts are inclusive of everyone impacted by this disease."
Okubadejo and her Global Parkinson's Genetics Program (GP2) coauthors published the GBA finding on August 23 in Lancet Neurology. The study included Nigerian and U.S. cohorts contributing to GP2, primarily the Nigerian Parkinson Disease Research Network, the U.S.-based Black and African American Connections to Parkinson's Disease (BLAAC PD) study and the 23andMe research community.
Launched in 2019, GP2 is part of Aligning Science Across Parkinson's, an initiative funded by the Sergey Brin Family Foundation and implemented by MJFF. It has assembled more than 140 cohorts from 58 global locations with the goal of collecting and genotyping more than 150,000 unique samples. This work was built on previous efforts from MJFF to expand global genetics studies, including early work in 2004 on the Edmond J. Safra Global Genetics Consortia.
Researchers previously identified other GBA variants that increase risk of PD, most notably in people of Ashkenazi Jewish descent. These variants are known to decrease activity of the glucocerebrosidase (GCase) enzyme, and therapies to increase GCase activity already are in clinical trials. The exact mechanism of the newly identified GBA variant is not yet fully understood, but if it too decreases GCase activity, then these treatments might also benefit individuals with this variant.
While this discovery is a significant milestone for the study of Parkinson's genetics, it's important to note that this news does not currently have implications for care. (Read a FAQ for more on what this finding might mean for you.)
Read more about this finding and its global collaboration in health and science outlet STAT's piece titled — "An effort to diversify genetic research finds new variant for Parkinson's disease in African populations." Then, watch a full interview on PBS NewsHour where managing director Ekemini Riley, PhD, of Aligning Science Across Parkinson's sits down exclusively with national correspondent John Yang to discuss the implications this discovery holds for the future of Parkinson's research and therapies. Listen to learn more about this genetic risk factor discovery through podcast episodes featured on NPR's "Goats and Soda"  and BBC's "World Service Health Check."  
Parkinson's research studies urgently need volunteers to help move science forward. There are many ways to get involved:
If you identify as Black or African American and do not have a parent, sibling or child with Parkinson's disease, learn more about the BLAAC PD study here.
The Parkinson's Progression Markers Initiative (PPMI) is the Foundation's landmark research study on a mission to stop Parkinson's. PPMI is exploring how brain disease starts and changes in people of all backgrounds. Learn more here.