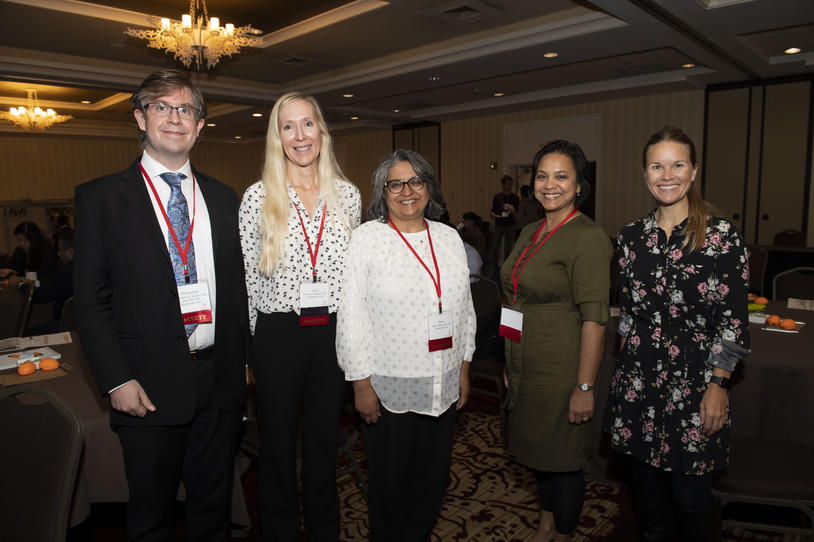 The Michael J. Fox Foundation (MJFF) recommends, where possible, that people living with Parkinson's disease get care from an expert — a movement disorder specialist. These experts are well-versed in diagnosing the disease and treating the various motor and non-motor symptoms that PD can bring. (Read more.)  
The challenge — one those with PD know all too well — is that there aren't enough specialists. That can translate to long wait times or travel distances and sometimes, to the inability to access expert care.  
To grow the number of neurologists with Parkinson's expertise, MJFF sponsors an annual, educational program for doctors-in-training. Co-sponsored by our longtime partner, the Edmond J. Safra Foundation, and hosted by the International Parkinson and Movement Disorder Society (MDS), the MDS-Pan-American Section (PAS) Movement Disorders School teaches early-career physicians the latest in PD care and research. It does so through lectures (filled with videos illustrating diverse symptoms and examination findings), question-and-answer sessions and a friendly competition in which participants present unique cases for expert panel discussion. In the most popular session, people and care partners living with neurological disease also join for live patient-doctor examinations to share their experiences, answer questions and directly shape the education of their potential future physicians. One participant living with dystonia (a muscle spasm that can happen as a disease on its own or as part of Parkinson's) encouraged, "Please choose this specialty, we need you!" Another, living with early-onset PD, expressed gratitude to the physicians who provided thoughtful and thorough care in her journey to and through deep brain stimulation surgery.  
No matter which area of neurology an attendee ultimately practices — whether general neurology, sleep medicine or something unrelated to PD, like stroke — they gain a solid foundation of knowledge to recognize and treat Parkinson's. They also get an appreciation for the promise of ongoing research to transform PD care and an understanding of the value and importance of pursuing a career in movement disorders. Participants have many opportunities to "ask the experts" — including Stanley Fahn, MD, professor of neurology emeritus at Columbia University Irving Medical Center in New York, New York and founder of the field of movement disorders — anything about what it's like to be a movement disorder specialist and the potential career paths one can take within the field.  
Steven Frucht, MD, professor in the department of neurology and director of the Division of Parkinson's and Movement Disorders at NYU Langone in New York, New York, and Erica Driver-Dunckley, MD, professor of neurology and consultant and chair of the Division of Movement Disorders at Mayo Clinic in Scottsdale, Arizona, co-directed this year's seventh annual course in New Jersey. Seven additional movement disorder specialists shared their knowledge as well as their passion and enthusiasm for the field with nearly 100 participants from the United States, Canada, Puerto Rico and across Latin America. About the course, faculty member Whitley Aamodt, MD, Edmond J. Safra Fellowship alumna and assistant professor of neurology at the University of Pennsylvania said, "It was a privilege to interact with so many eager and engaged students — they are the future of Parkinson's care, whether they choose movement disorders or not. This course can play a large role in their professional trajectory and positively influence the care they can offer to people and families living with Parkinson's."  
To date, the course has educated more than 800 health care professional trainees. Many say the course confirms or inspires a decision to pursue a career in movement disorders. And the vast majority say they gather a deep understanding of the nuance of Parkinson's and the variety of tools to help people and families live well with the disease.  
Once the attention of prospective specialists is captured, the next step is to train them, through a movement disorders fellowship, to become expert Parkinson's clinician-researchers. MJFF's Edmond J. Safra Fellowship in Movement Disorders offers funding to medical centers around the world to train new specialists. Read about this program and its graduates.  
Additional support for the 2022 MDS-PAS Movement Disorders School is provided by sponsors in the biotechnology and pharmaceutical industry, including Abbott and Kyowa Kirin. This corporate philanthropy supports the Foundation's commitment to creating high-quality educational resources while preserving a track record of efficiency in stewarding donor-raised contributions for maximum impact on Parkinson's drug development.