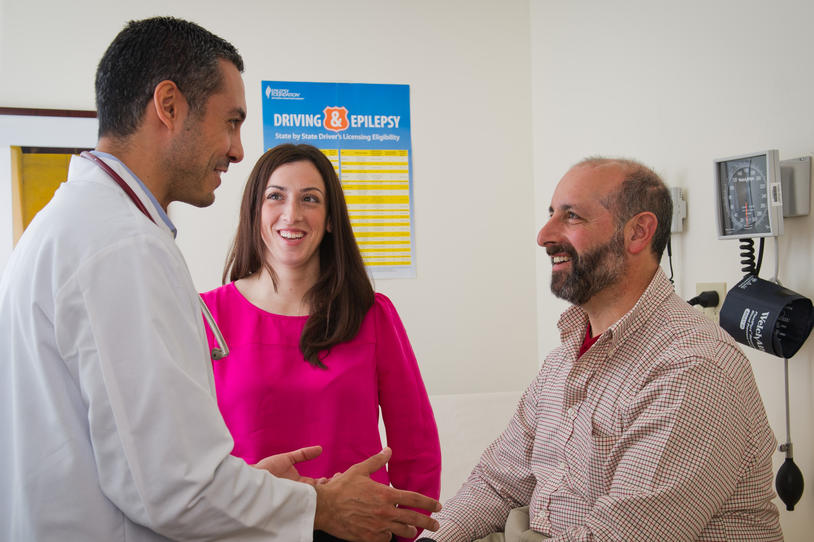 Join The Michael J. Fox Foundation's mission to find better treatments and ultimately a cure. Whether you have Parkinson's disease (PD) or not, participating in research is one way to contribute toward the cause. Some studies investigate ways to slow disease progression, evaluate therapies and test interventions. Others follow participants over time to learn more about disease. In this research roundup blog, we share studies recruiting volunteers. 
Aiming to Stop Parkinson's: The Parkinson's Progression Markers Initiative (PPMI) is actively recruiting volunteers with and without PD. PPMI is offering free and simple scratch-and-sniff tests to anyone over age 60 not living with Parkinson's disease in the U.S. A change in a person's ability to smell can be an early risk factor for PD. Please visit mysmelltest.org/mjff to request a smell test. 

People recently diagnosed with PD can also play a critical role in PPMI. If you've been diagnosed in the past two years and are not yet taking PD medication, please call 877-525-PPMI or email joinppmi@michaeljfox.org to get started. Visit our website to learn more. 

Anyone over age 18 in the U.S. can join the online part of PPMI.

Investigating a Potential Parkinson's Drug: Annovis Bio Inc. is investigating the efficacy and safety of a drug, Buntanetap, in people with early Parkinson's disease. Buntanetap lowers the levels of proteins like alpha-synuclein, tau and amyloid, which are associated with Parkinson's and other neurodegenerative disorders like Alzheimer's disease. This Phase III trial is recruiting participants with early PD to undergo treatments and assessments within seven to eight months in the United States and a few European countries. Learn more and contact a site near you.     
Clinical Research Study in Mild Cognitive Impairment associated with Parkinson's Disease (MD-MCI): The PRECEDENT study is evaluating an investigational treatment for cognitive deficits such as memory and attention in Parkinson's. This Phase II study is sponsored by Sage Therapeutics, Inc. and recruiting people aged 50 to 75 years who are diagnosed with mild cognitive impairment related to idiopathic Parkinson's disease. Other eligibility criteria apply. The purpose of this study is to test the safety, tolerability and efficacy of an investigational oral drug, Sage-718 to treat mild cognitive impairment. SAGE-718 is an investigational drug and is not approved by the U.S. Food and Drug Administration (FDA) as safe and effective for any use. There is no guarantee that Sage-718 will be approved by the FDA. Learn more and find a study center near you. 
Seeking to Reduce Dyskinesia: Many people with PD take levodopa to manage motor symptoms. Long-term levodopa use could cause people to develop dyskinesia — uncontrolled movements. The SHINE study is testing a new oral drug, JM-010, that might reduce these involuntary movements for people taking levodopa. Phase II of this study is recruiting volunteers between the ages of 18 to 85, diagnosed with PD and experiencing levodopa-induced dyskinesia. Learn more here. 
Testing a Protein Inhibitor: The PROSEEK trial is testing a potential disease-slowing therapy in people with early PD. K0706 (Vodobatinib) is an oral investigational drug that suppresses the activity of the c-Abl protein. Higher levels of this protein may contribute to development of Parkinson's and other neurodegenerative diseases. This Phase II trial is led by Sun Pharma Advanced Research Company (SPARC). Sites across the U.S., Europe and India are recruiting people aged 50 years and up, diagnosed with PD within the past three years and not yet taking any PD medication except Rasagiline and any MAO-B inhibitors. Learn more and contact a site near you.  
Join our mission to end Parkinson's. Whether or not you have Parkinson's, learn how you can take part in research. Watch a video or download a guide on our website.