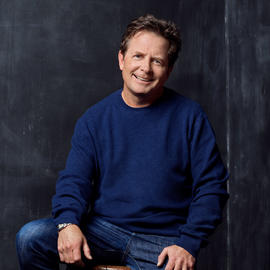 Born in Canada, Michael J. Fox is an award-winning television and film actor whose enduring career as a performer has made him an icon to countless fans around the globe. In 1991, at age 29, he was diagnosed with Parkinson's disease, news he shared with the public in 1998. In 2000, to help advance scientific progress toward a cure for Parkinson's disease, he established The Michael J. Fox Foundation for Parkinson's Research.
Today Michael is as famous for his advocacy as for his acting. Sitting on the Foundation's Board of Directors and serving as its inspirational leader, Michael travels and speaks frequently on behalf of the organization described by the New York Times as "the most credible voice on Parkinson's research in the world." He is admired for his commitment to raising awareness about Parkinson's disease research, his dedication to scientific freedom, and his appreciation of the need for new strategies to accelerate the translation of research discoveries into practical therapies on pharmacy shelves.
Drawing on his natural optimism and determination, Michael returned to full-time acting in 2013 with his role as Mike Henry in NBC's "The Michael J. Fox Show," a sitcom about a man living an ordinary life with Parkinson's. Fox also continues to thrill fans in his multi-episode guest arc as Lewis Canning, a devious attorney who uses his tardive dyskinesia to his clients' advantage, in the CBS hit drama "The Good Wife" starring Julianna Margulies.
Michael has spoken and written extensively about the inspiration he finds in the creativity, passion and commitment of the Parkinson's community. "When the cure is found — and it will be — it won't be because of any single individual or because of our Foundation," he says. "It will be because of all of us, working together."