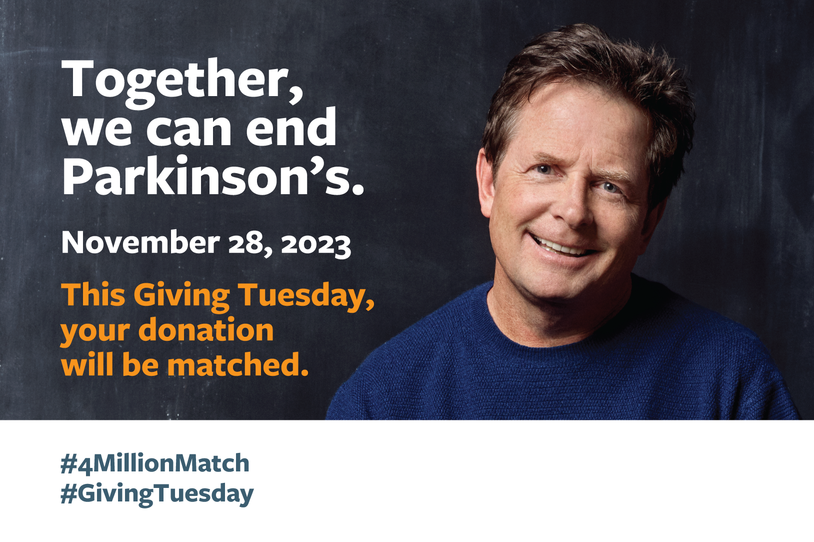 November 28 is Giving Tuesday, a day when all donations to The Michael J. Fox Foundation (MJFF) will be matched, up to $4 million. So what is Giving Tuesday, and why is it important?  
Giving Tuesday is a global day of giving to support thousands of charitable organizations and causes worldwide. It falls on the first Tuesday after Thanksgiving, directly following two major shopping days — Black Friday and Cyber Monday. On Giving Tuesday, individuals and businesses unite to make a positive impact through their generosity. It's a day where everyone can contribute to the causes they care about most. 
This year, The Michael J. Fox Foundation is thrilled to announce that every donation on Giving Tuesday will be matched, up to $4 million. The match is made possible through the generosity of six dedicated individuals and families who, like you, want to help end Parkinson's for good: 
The Eric Robert Pitcher Estate 

The Eddie and Jo Allison Smith Family Foundation 

The William and Margaret Fern Holmes Family Foundation 

The Hoven Foundation 
Christine and Sonny Whelen 

Elaine and Robert N. Robinson 
MJFF is grateful to these families for raising the bar on what we can achieve as a community. With the $4 million match, whether you donate online, through the mail or by phone, your Giving Tuesday gift will be doubled and deployed as quickly as possible. 
The giving season is a critical time for The Michael J. Fox Foundation to fund high-impact research initiatives that are transforming the Parkinson's disease landscape. With the recent discovery of a biomarker for Parkinson's, we are entering a new era for research — one that will spur drug development like never before. We're closer than ever to the answers that patients and families with Parkinson's urgently need, and we can't slow down now. You can help us reach our ambitious goal this Giving Tuesday. Please join us on November 28, to turn the next breakthrough into a Parkinson's cure. Mark your calendars for November 28, or get ahead with your giving by donating now.