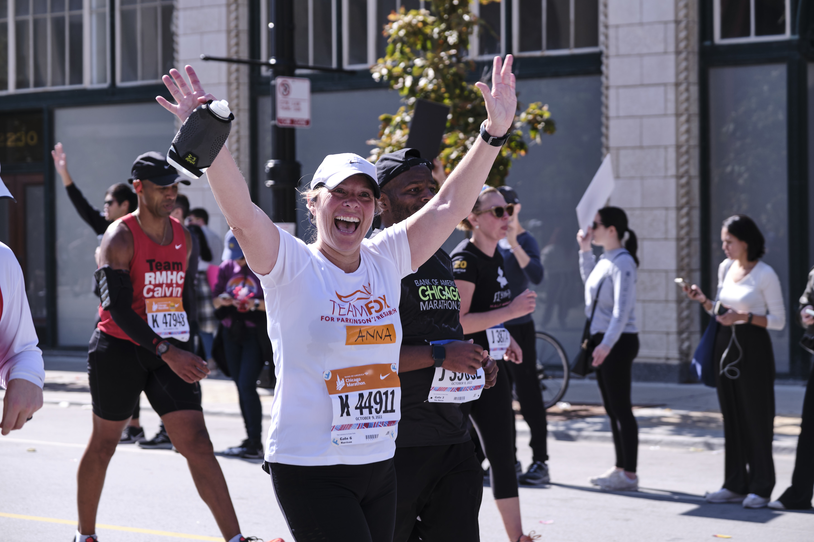 With events spanning across the globe, the Team Fox Endurance Program has been a staple of The Michael J. Fox Foundation's (MJFF) peer-to-peer fundraising since 2005. In this ongoing series, MJFF asks our Endurance athletes about their experiences running, walking, climbing and more with Team Fox. 
---
Wife, mother, daughter, Iowa native, dental hygienist, marathoner. Participating in the Chicago Marathon since 2017, Anna Haber ran for the first time with Team Fox in 2022 in honor of her father who lives with Parkinson's disease (PD). In her first-year fundraising for MJFF, Anna raised over $10,000 for PD research. Read more about Anna's inspiration for joining Team Fox and the impact joining has had on her below.  
MJFF: How did you get involved with Team Fox? 
Anna: In 2021, I ran the Chicago Marathon for another charity. Around mile 18, I came up to pass a gentleman in a Team Fox shirt (who I now know was Bill Bucklew), and as I passed him, I touched his arm and thanked him for running for MJFF and I told him I was going to join the team next year. He smiled and asked my connection. When I responded, "My dad," he asked for his name. As I ran away from him, I yelled over my shoulder, "His name is Dennis!" and the gentleman gave me a fist pump and said, "This is for Dennis!" I was so overcome with emotion at such a simple gesture of kindness that as soon as the race was over, I started researching how to join Team Fox for real. 
MJFF: What was it like to run the Chicago Marathon in 2022 in honor of your dad, especially since he was on the sidelines cheering for you? 
Anna: It was particularly important for me to be able to run for Team Fox while my dad is still around so that he can feel supported, special and loved. The minute I ran past him he teared up and started crying. He was so proud of me. I wanted to return the favor, to let him know that I'm also proud of him for his strength, his persistence, his humor and his bravery every day in fighting this disease.   
MJFF: What was it like getting to meet other Team Fox members at the pre-race events? 
Anna: Race Day mornings are always chaotic and I'm always nervous. I also felt such a sense of responsibility not to let my supporters down. What all these Team Fox individuals do is so inspiring. I was really overwhelmed with all my emotions and just tried to channel it all to help fuel me mentally for the 26 miles. I was so humbled and grateful to be a part of it all.  
MJFF: Why is fundraising for research important to you?   
Anna: Whether it's losing someone to cancer or watching someone decline from Parkinson's disease — the overriding emotion is helplessness. To sit by, powerless, while a disease ravages someone you love and you can't do a thing about it. Raising money for PD research makes me feel like I am not helpless or powerless, that I can use my simple hobby of running to bring my voice to be heard. 
MJFF: Training for a marathon is no easy feat. What gets you through the long training months before race day? 
 
Anna: Meeting the Team Fox athletes last year changed my priorities. I can't imagine running a marathon and NOT raising money for a charity. Running in the Midwest in the summer sucks. The weather can be unforgiving. Even so, I try to approach my training runs with gratitude. Gratitude towards my body that lets me do this year after year. Gratitude to my husband and son for being so supportive. Gratitude that I know so many willing to support me. 
MJFF: Will we see you on the course next year? 
Anna: Leading up to the 2022 marathon I was convinced that it was going to be my last one for a while. But after meeting the athletes running for Team Fox, especially those who have PD, it made a really big impact on me. What if I changed the way that I thought about it? Instead of it being a chore, why is it not a privilege? And if I may someday face a PD diagnosis of my own, I want to be strong and healthy and fight it just like everyone with PD does. So, I'm just going to keep running — for my dad, my uncle, Bill — because I can.  
Click here to learn more about how you can make a difference by running with Team Fox. 
Anna and her dad, Dennis, at the 2022 Chicago Marathon. 

Anna's family cheering her on as she runs the 2022 Chicago Marathon with Team Fox. 

Anna and her family at the post-race event. 

Anna and her dad, Dennis. 

Anna runs for MJFF and her dad, Dennis.