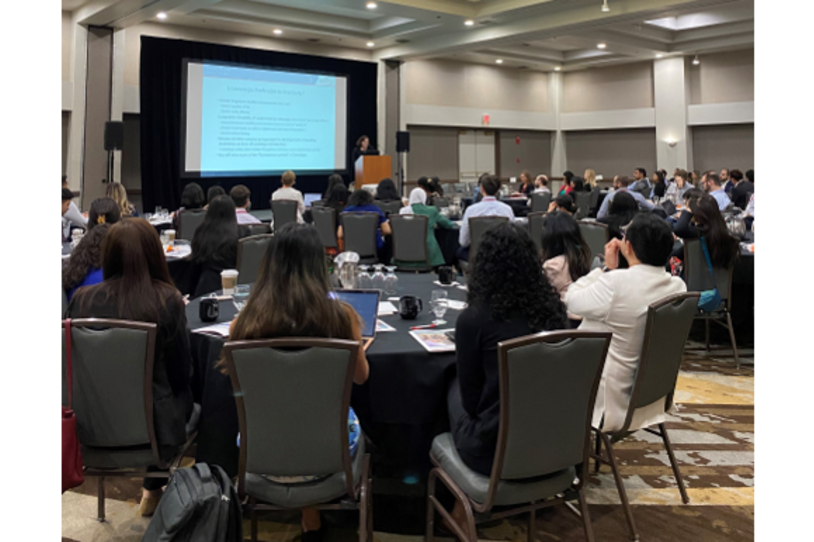 As part of The Michael J. Fox Foundation's (MJFF) mission toward better treatments and a cure, the Foundation supports the training of the next generations of Parkinson's doctors, who are called movement disorder specialists. This helps broaden access to expert care, ongoing clinical trials and the newest medications on the market.
For the past eight years, MJFF, with longtime partner the Edmond J. Safra Foundation, has sponsored the International Parkinson and Movement Disorder Society (MDS) Pan American Section (PAS) Movement Disorders School for Neurology Residents. To date, the program has educated and engaged more than 900 doctors from around the world. Participant feedback is consistently and overwhelmingly positive and many say the course confirms or inspires a decision to pursue movement disorders.
This is one of the primary aims of the program, which seeks to increase awareness of and sustain interest in movement disorders among early career-stage doctors, called "residents." Throughout neurology training, future neurologists learn to diagnose and care for a wide array of brain, spine and nerve conditions, such as stroke, seizures, Alzheimer's, ALS, spinal cord injuries, headaches and many others. During this time, trainees decide their future career path — generally opting to either begin practice upon graduation or to pursue additional training (a fellowship) to, ultimately, focus care and research in that area. Because training varies from center to center, some residents receive limited or late exposure to movement disorders, sometimes after they've already made an alternate career choice.
The MDS-PAS Movement Disorders School teaches neurology residents about Parkinson's and related conditions, highlighting the immense progress and momentum in research and showcasing possibilities for meaningful careers in the field. Led by globally recognized movement disorder experts, the course offers two days of networking and education via lectures, panel discussions, question-and-answer sessions and a video case "competition" in which attendees present a rare case and listen to experts talk it through. The most highly rated portion of the course is interactive patient rounds, in which students meet someone living with disease and faculty demonstrate pertinent examination findings. Ethan Henderson, an MJFF employee who lives with Parkinson's, volunteered for this year's patient rounds. He said, "I felt honored to share my journey. As a former teacher, I enjoyed watching how participants reacted to my story and asked follow-up questions. It was especially helpful to talk about my years of misdiagnosis because we discussed why doctors might have thought otherwise. I loved seeing the 'aha' moments in the room, when something clicked, in part, because of my personal experience."
The 2023 course, held in October in Phoenix, Arizona, drew 92 attendees from across North, South and Central America. The program was co-directed by Erika Driver-Dunckley, MD, professor of neurology and consultant and chair of the Division of Movement Disorders at Mayo Clinic in Scottsdale, Arizona, and Katie Kompoliti, MD, director of the Movement Disorders Fellowship Program, professor in the Department of Neurological Sciences, and educational director in the Section of Movement Disorders as well as Edmond J. Safra Fellowship Director at Rush University Medical Center in Chicago, Illinois. (Read more about MJFF's Edmond J. Safra Fellowship, which is building a global network of Parkinson's clinician-researchers.) Nine additional movement disorder specialists, including Edmond J. Safra Fellowship alumnus Jon Toledo Atucha, MD, PhD, served as faculty, teaching students and sharing their passion for the field. About his experience, Jon said, "I attended this course as a resident, and it cemented my decision to do a movement disorders fellowship. I was very touched to be invited to come back as faculty; it was like coming full circle. I enjoyed promoting our great specialty and sharing what I love about being a movement disorder specialist — the community of care, knowing my patients and building relationships with them."
A new addition to this course was a session on an important, but often undertaught, topic: lifestyle medicine. Indu Subramanian, MD, a movement disorders neurologist and integrative medicine specialist, discussed diet, exercise, social connection and more as treatment tools for people living with disease or risk for disease. These lifestyle practices are of great interest to many patients and families but aren't, unfortunately, a focus of medical education and training. About the course, Indu said, "It was exciting to look around the room and see the faces of our future movement disorder specialists — especially so many women, people of color and people from all over the Americas. I loved helping them see each other and themselves in the field. And I loved seeing their excitement about wellness and lifestyle, about learning ways to help people with Parkinson's live better."
A neurology resident from Brazil, Ana Silvia Sobreira Lima Verda, said, "This was incredible weekend, with great learning and updates on movement disorders. This opportunity awakened in me even more the desire to pursue a career in movement disorders, and I am immensely grateful."
Once we capture the attention of prospective specialists, the next step is to train them, through a movement disorders fellowship, to become expert Parkinson's clinician-researchers. MJFF's Edmond J. Safra Fellowship in Movement Disorders offers funding to medical centers around the world to train new specialists. Read about this program and its graduates.