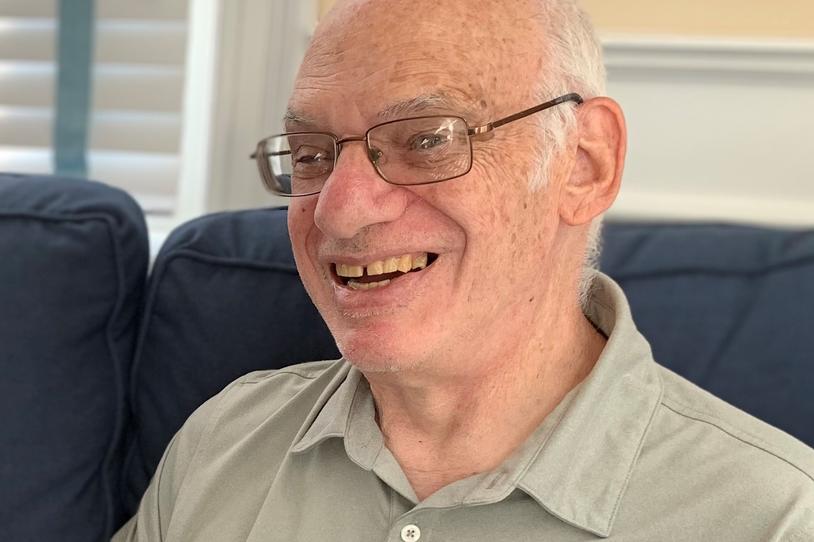 Joseph Capizzi, 74, is a volunteer in the Foundation's landmark Parkinson's Progression Markers Initiative (PPMI). He found out he had loss of smell, a risk factor for Parkinson's disease. This made him eligible for PPMI. Years after joining the study, he was diagnosed with Parkinson's.
Monitoring your sense of smell could give you important information on your brain health as you age. The Michael J. Fox Foundation is asking everyone over age 60 not living with Parkinson's to request a simple scratch-and-sniff test today at mysmelltest.org/mjff.
From Volunteer to Patient
My wife has had Parkinson's disease (PD) for about 15 years, and along the way, she started attending a support group. That's how I heard about the PPMI study. I decided to participate because I wanted to show my support.
My Own Parkinson's Journey
Many years ago, during a meeting of my wife's support group, they handed out little cards with different scent strips on them, and my wife brought one home for me to try. One sign of Parkinson's is loss of sense of smell, and that's when I learned my own sense of smell was diminished. But for a long time, I didn't exhibit any other signs of PD. Then, I noticed I had some tremor, went to the neurologist and was diagnosed with Parkinson's myself. Emotionally, it didn't affect me that much. I've had a wonderful role model in my wife, who leads a very busy life, and who doesn't worry about what tomorrow may bring. I've tried to adopt that outlook.
The Power of Data
I recently had my 14th study visit for PPMI at the University of Pennsylvania site in Philadelphia. I believe in the power of a comprehensive database. For PPMI, year after year, they collect the same kind of data with the same people. That's going to be very powerful down the road. That's why I'll keep going until I no longer can.
If you're over age 60 and not living with Parkinson's disease, request a scratch-and-sniff test today and contribute to important research.
PPMI is open to anyone over age 18 in the U.S. Join the study that could change everything.