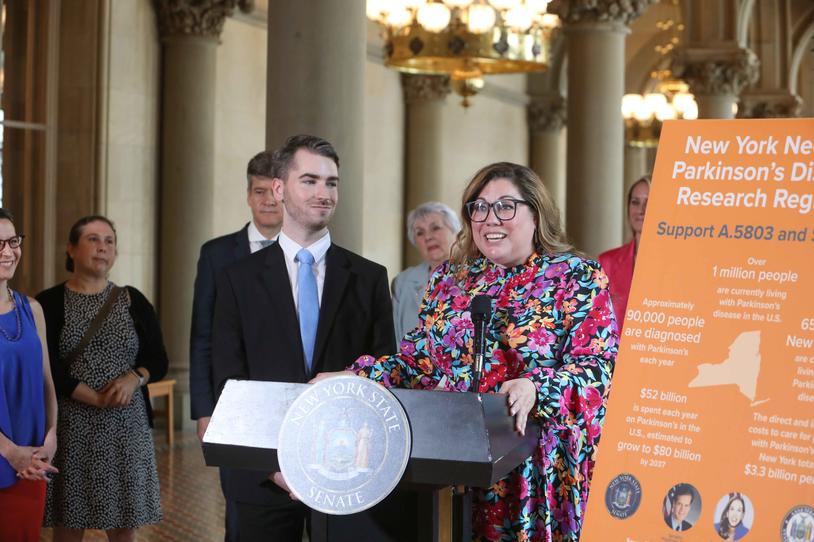 A resource for better understanding Parkinson's disease (PD) are patient registries. The Michael J. Fox Foundation's (MJFF) public policy team recently joined New York State lawmakers and advocates to rally for the passage of proposed New York State legislation that would establish a PD research registry in the "Empire State." The team was joined by the New York Senate and Assembly bill lead sponsors — State Senator Brad Hoylman-Sigal and Assemblymember Amy Paulin — and impassioned advocates to discuss the importance of the proposed legislation.
By collecting health information on individual cases of PD, researchers can monitor and identify connections to environmental and chemical exposures. This could help accelerate research and progress toward a cure. The legislation (A.5803/S.4674) would empower New York's Department of Health to create the infrastructure to collect invaluable data on the over 65,000 people diagnosed with Parkinson's in the state and future diagnoses.
"Registries empower clinicians, researchers, innovators, and patients to make data-informed decisions. The role of clinical data registries has never been more significant," said Julia Pitcher, MJFF's Director of State Government Relations.
Due to its rich demographic diversity and large population size, New York would be an ideal place to collect this robust and diverse data set for researchers.
Barbara Zimmerman, of Rochester, New York, whose husband, Jim, was diagnosed with Parkinson's in 2007, shared with lawmakers how the disease has impacted their family. "My role as a wife has slowly changed to caregiver, and I miss the partner and friend I've known for over 50 years," Zimmerman said. "We need a Parkinson's disease registry in New York now to make further progress on treating the disease."
MJFF's public policy team, along with Barbara Zimmerman and her family – daughter, Amy, and granddaughter, Olivia – were recognized by New York State Senator Hoylman-Sigal on the Senate floor for their advocacy work. In addition, the Senator presented the Foundation with a proclamation that declared the month of April as Parkinson's Awareness Month.
Thanks to our lawmaker champions and public policy advocates, the New York State Senate voted to pass S.4674, bringing New York closer to a Parkinson's research registry. Now, MJFF is tracking the bill this early June as it heads to the New York State Assembly for approval before being signed into law by New York Governor Kathy Hochul.  
If you are a New York State resident, you can still make your voice heard by June 9 before lawmakers adjourn. Tell your state legislators that you support the creation of a statewide PD research registry here.
Interested in helping your elected officials learn more about Parkinson's policy and research priorities? Join our policy network at michaeljfox.org/advocacy.
MJFF public policy advocate Katelyn McKenna, of Troy, New York, provided remarks on behalf of her husband who lives with early onset Parkinson's disease.

Photo Credit: New York State Senate

MJFF public policy advocate Barbara Zimmerman, of Rochester, New York, shares the disease's impact on her family and husband Jim who has lived with PD since 2007. 

Photo Credit: New York State Senate

MJFF public policy advocate and person living with early onset Parkinson's Kristi LaMonica, PhD, of Troy, New York shared her Parkinson's journey with New York State lawmakers and the impact a PD Registry would have on research. 

Photo Credit: New York State Senate