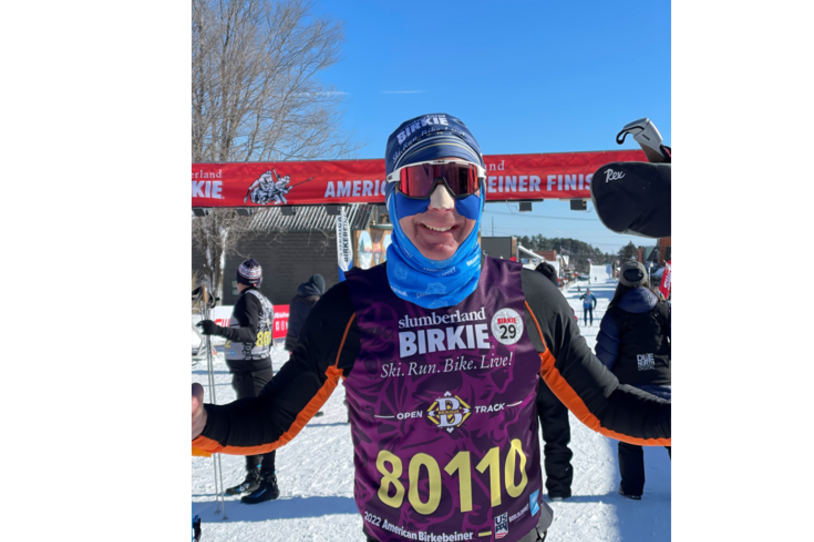 The following story appeared in the American Birkebeiner's 2023/2024 Annual Issue of the Birch Scroll. For this story and more, download the full edition.   
After Bill Brown was diagnosed with Parkinson's disease (PD) in 2015, the same disease his father lived with, he learned about Team Fox and decided to turn his goal of skiing all 20 Worldloppet races into a fundraiser for Parkinson's research.   
Two years later at the American Birkebeiner, Brown met Mark Gherty. On behalf of his siblings diagnosed with PD, Gherty had been fundraising for Team Fox since 2007 but skiing long before that. "I bought my first pair of cross-country skis in February 1973, the same month and year the first American Birkebeiner was held," he says. "I was not aware of the Birkie until a few years later and signed up for my first one in February 1983. I was drawn to the race because of the competition between friends and the challenge to complete a ski marathon. I have participated with the same friends for the past 41 years." After meeting in 2017, Brown and Gherty set out to create the ultimate Team Fox fundraising group: Ski for Parkinson's.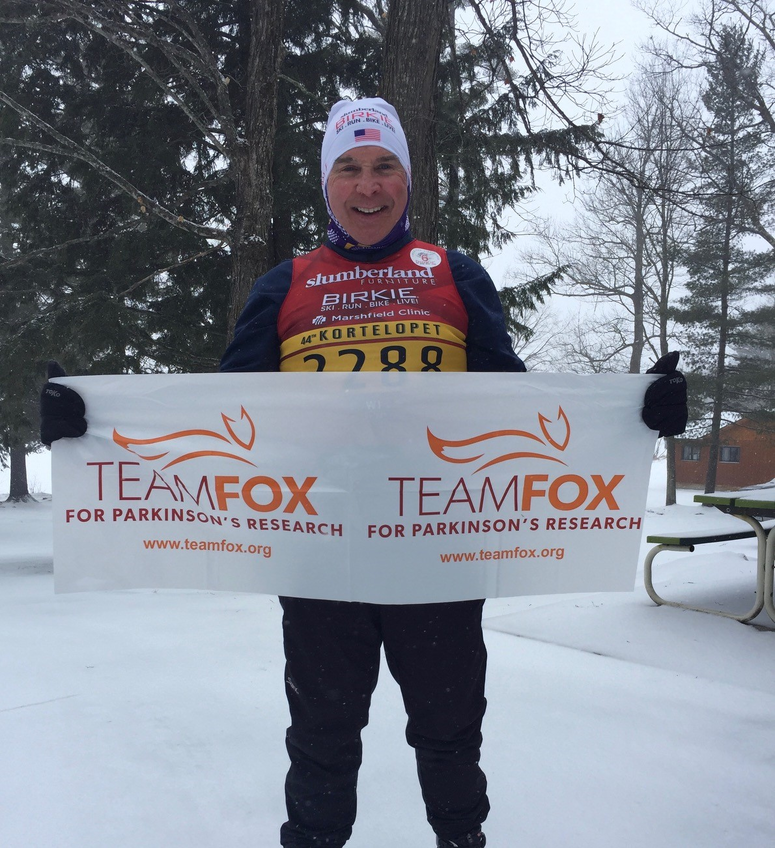 Over the last six years, Ski for Parkinson's has grown from a two-person team to a five-person team and has raised over $665,000 for PD research. During this time, Brown completed his final Worldloppet race in 2019, skiing 17 of the races after his diagnosis. "I've been surprised to learn that fundraising has helped me talk more openly about living with Parkinson's. As those with PD may agree, there are times when it can be easy to dwell on the challenges that we have with this disease," he says. "I've found that since I started fundraising for Team Fox, I am instead excited about all the positive developments in PD research and in what we can do to help find a cure. It's been great to have a part to play in advancing this progress!"  
 
Since the beginning of Brown and Gherty's relationship, they have dreamt about the possibility of partnering with the American Birkebeiner to raise funds and awareness for PD research. Thanks to their efforts, Team Fox has become the Official Charity Partner of the race's 50th anniversary in 2024, a first for both organizations. 
 
The pair are proud to have made their dream into a reality. "Fundraising for Ski for Parkinson's is an easy way to combine your love of cross-country skiing and the Northwoods with helping the worldwide and local PD community," says Brown.  
 
"There are hills that seem insurmountable, but it is through internal determination and the support of friends, family, and others that one is able to succeed," says Gherty. "I look at the struggle of both my sister and brother as they specifically dealt with PD. I tell every one of my donors that I carry their names in my pack as I crown the International Bridge before I ski to the finish line. Every one of my donors are with me in the effort."  
 
You too can be part of this passionate community of change-makers who are bringing us closer to a cure. To join Ski for Parkinson's at the 50th Annual Slumberland American Birkebeiner (February 21-24, 2024), click here. Every penny donated to Ski for Parkinson's goes straight to The Michael J. Fox Foundation's high-impact research programs to help speed a cure for Parkinson's disease. 
---
About Team Fox  
An estimated six million people worldwide are living with Parkinson's disease —the fasting growing neurological disorder and second-most common after Alzheimer's disease. Currently, there is no known cure or treatment to slow or stop the progression of Parkinson's. Together, we can change this. 
 
Team Fox is the grassroots community fundraising program of The Michael J. Fox Foundation for Parkinson's Research (MJFF). Since its inception, MJFF has operated with one single-urgent goal: putting ourselves out of business and finding better treatments and a cure for Parkinson's through an aggressively funded research agenda.  
 
Team Fox members worldwide have been turning their passions and interests into opportunities to raise funds and awareness for Parkinson's research since 2006. "Have you ever noticed that optimism, energy and generosity are contagious? There's something about watching someone you know take on a cause that makes you want to get involved too. That's the big idea behind Team Fox," says Michael J. Fox. 
 
Questions? Email athletes@michaeljfox.org.