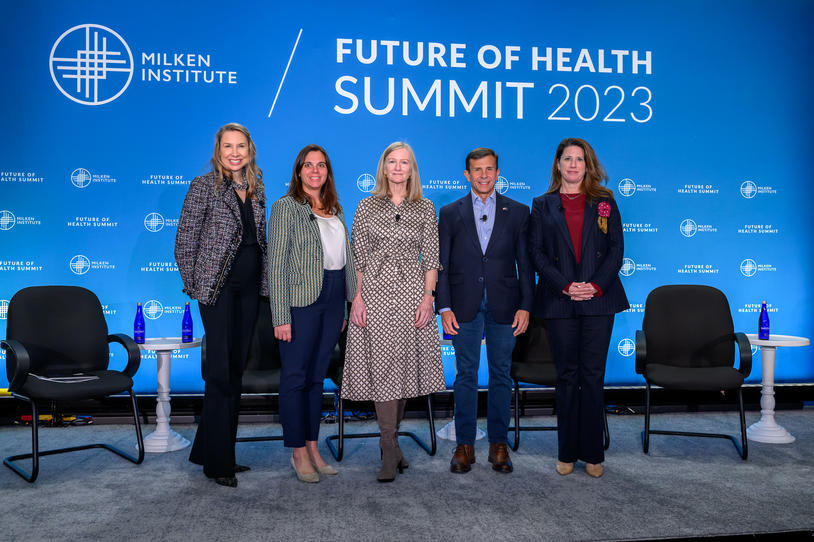 This week medical experts, leading scientists and political leaders joined The 2023 Milken Institute Future of Health Summit in Washington, D.C. and virtually to confront some of the most significant issues affecting medical research, preventative care and public health. 
Michael J. Fox Foundation (MJFF) Co-Founder and CEO Debi Brooks joined leading organizations and philanthropists for a robust panel titled, "Shooting for the Moon: Embracing Moonshot Philanthropy to Revolutionize Human Health."
Alongside moderator Melissa Stevens, Executive Vice President, MI Philanthropy and Milken Institute and panelists Cara Altimus, Managing Director, BD²: Breakthrough Discoveries for thriving with bipolar disorder; John Crowley, Executive Chairman, Amicus Therapeutics and Jennifer Lotito, President and Chief Operating Officer, RED, Debi and the panel spoke to the idea of moonshot philanthropy. Each shared their perspectives on tackling complex issues by supporting breakthrough innovations, technologies, research and collaborations.
When moderator Melissa Stevens asked how MJFF has been able to galvanize the patient community's voice and strategic philanthropy to drive innovation, Debi reflected on the Foundation's earliest days and Michael's guiding takeaway that has stayed true to this day:
"Michael is a master of simplicity and zeroing in on something so core. He has a lot of 'isms' that we keep using and have not gone away. His first takeaway was that 'the science was ahead of the money.' That was told to him as if it was insurmountable. And he thought maybe I could help with this and that translated for him that we should do whatever it takes. We can bring more money to these problems."
Panelists talked about the audacious goals that can be achieved when fearlessness, risk tolerance, an inclination toward the unconventional, and acceptance of failure contribute to the process. When asked about risk-taking and its role in driving change, Debi shared how the Foundation's landmark brain health study, the Parkinson's Progression Markers Initiatives (PPMI) began and how it has led to this year's enormous scientific breakthroughs:
"We committed to figuring out if we could stand up a longitudinal study to better understand and try to parse the progression of Parkinson's disease. And that was crazy on so many levels. Probably the biggest risk it represented was appreciating that pharma and scientists were telling us that there were just no good existing model systems."
Debi added:
"We're about to start another whole moonshot. And it's exciting. We know we have so much more knowledge about the disease and a stronger commitment."
Closing out the Future of Health Summit, Michael J. Fox delivered a powerful message virtually to attendees: 
 "For two decades, FasterCures has challenged the medical research enterprise to do better on behalf of people and families living with disease. When we were starting the Foundation, Mike Milken took the time to advise and coach us.  We were inspired by his belief that it's possible to speed cures by changing how science gets done. And his vision helped shape our own. We began to see ourselves as problem-solvers doing whatever it takes to identify the biggest challenges to our mission, bring the world's top minds to the problem, and give them the tools to get the job done. It's a model we employ to this day. I'm grateful that FasterCures continues to shepherd the work of speeding urgently needed cures. Thank you for bringing us closer to a world without disease."
Watch the full conversation featuring MJFF's Debi Brooks here. Then, learn more about the recent scientific breakthroughs and possibilities in the Parkinson's pipeline of therapies.